Lately, your book club is feeling a little lame. The monthly potluck selections are a bit tired and it seems more like a chore to mix up that spinach dip than ever before. The good thing is, it's easy enough to punch up the excitement -- both in your book selections and the food pairings.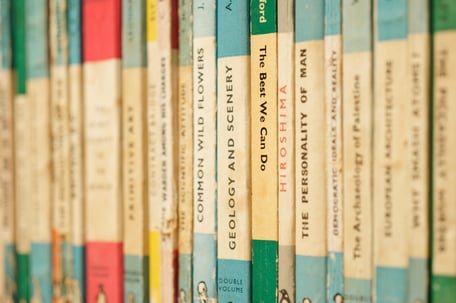 Here are seven fun ways to think differently about your next meeting:
1. Pick a book from a different part of the world and have the club try out something new. For example, if you are reading Marjan Kamali's beautiful book, TOGETHER TEA, try out the foods (and tea!) of Iran. Or if you have picked the fun (and funny), summery romance ONE SUMMER DAY IN ROME by Mark Lamprell, look for food and wine specifically from the Lazio, the region around Rome.
2. Explore the fantastic. I recently read about the Milwaukee School for Engineering book club who read the NIGHT CIRCUS by Erin Morgenstern. Their menu included onion blossoms with dipping sauce, mini corn dogs and cotton candy ice cream. Or if you are reading Harry Potter, you can check out the unofficial cookbook. If you are diving into George R.R. Martin, there is even a Game of Thrones cookbook.
3. What did the author eat? Do a bit of research on what foods the author might have eaten in their time, cookbooks by authors or inspired by authors. For example, if you decide to down Dickens GREAT EXPECTATIONS, look for DINING WITH DICKENS which is a look at all the cookbooks that inspired Mrs. Dickens.
4. Choose a distant era and create a book club party with food from that era. If you are reading the new Phillipa Gregory book, THE LAST TUDOR, try and recreate the foods of Tudor England. Or if you are reading my novel, FEAST OF SORROW, about the ancient Roman gourmand, Apicius, you could throw a feast! See how to download the Reader's Guide and my Ultimate Roman Party Planner at the end of this article.
5. Read a book about food and pair it. FEAST OF SORROW works for this as well, as will these fantastic books: 11 Food Novels That Will Leave You Hungry. Except that you won't be hungry because your book club decided to recreate some of the meals in the books!
6. Pair comfort food with intense books. After you finish THE ENGLISH PATIENT, THE ROAD or a haunting memoir such as Lynn K. Hall's CAGED EYES, serve up mac and cheese, chicken pot pies and pints of ice cream for dessert--so you don't feel so wrecked when you discuss.
7. Have fun with a book-specific potluck. If you are reading THE BOOK THIEF perhaps someone brings pea soup, another brings the pretzels, or the family's traditional German cookie recipe.
There are numerous possibilities--the key is to get creative!


---
Exclusively for Book Club Readers
The FEAST OF SORROW Reading Guide and Ultimate Roman Party Planner