Turkey with Pomegranate Sauce: A Renaissance Recipe

Turkey, a Delicacy 500 Years Ago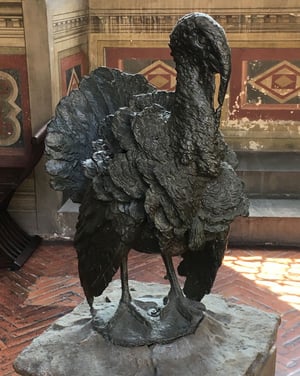 The first turkey recipes appear in the Italian cookbook in L'Opera di Bartolomeo Scappi (who happens to be the protagonist in my novel, The Chef's Secret). Turkeys found their way to Italy during the Renaissance, but it wasn't until the latter half of the century that they were deemed suitable for eating. As you might know, turkeys are a bird native to the Americas and were prized by the ancient Aztecs and Native Americans alike. Christopher Columbus noted the bird when he first came to America, but it wasn't until around 1519 when Spanish and Italian explorers first brought turkeys to Europe. Initially they were regarded as a beautiful and strange oddity, and many nobles kept them as pets or gave them to others as extravagant gifts. They were loved for their unique look, with artists depicting them in sculpture and paintings. The sculpture you see here, by Italian sculptor Giambologna, is from 1560, of the prized pet of Cosimo di Medici. The Italians called them gallo d'India (or birds of India) because of general geographical confusion by early explorers. Eventually, however, turkeys became even more loved for their delicious and unusual flavor.
Scappi's recipes for turkey include how to roast one, and how to make a turkey pot pie. Turkey pot-pies became quite elaborate in the latter half of the 1500s and early 1600s, as in this painting, Still-life with Turkey-Pie, one of the most famous paintings by Dutch artist, Pieter Claesz. Scappi was a big fan of making birds appear as though they were still alive and in his cookbook he describes various ways to do so with peacocks, and suggests that turkeys can be prepared in the same way.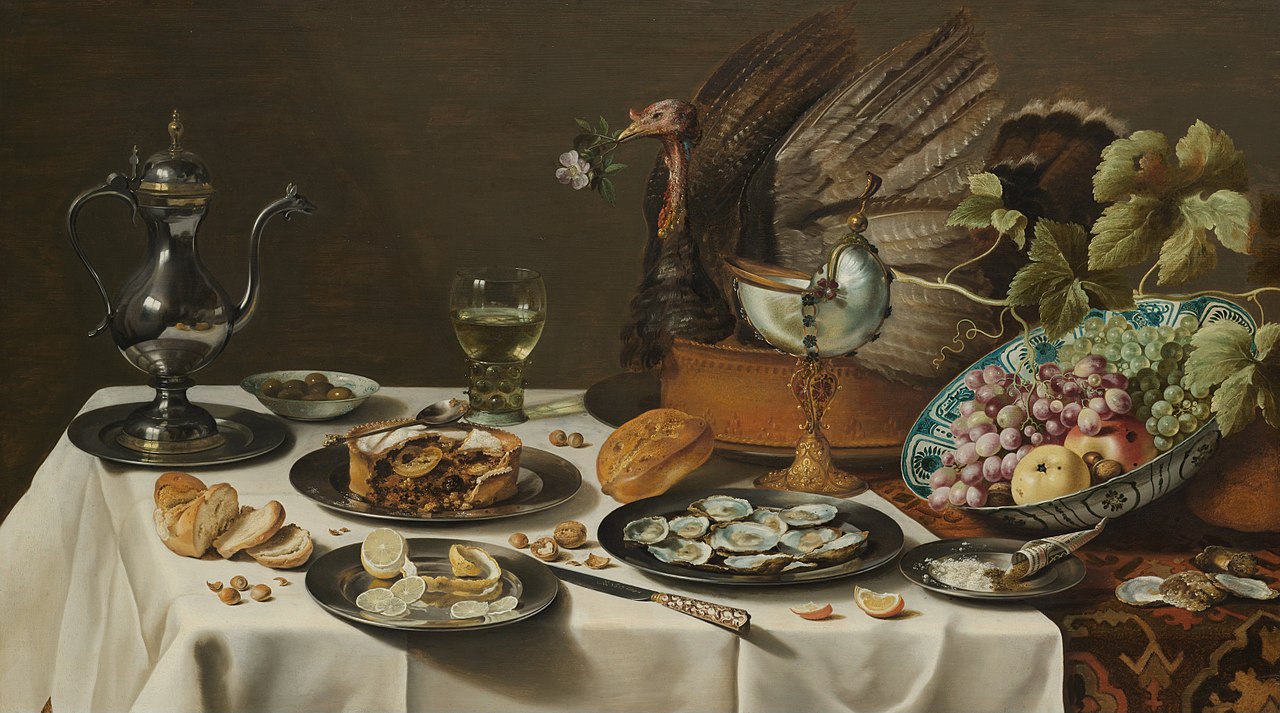 The methods that Bartolomeo Scappi uses to prepare turkey are generally not feasible for modern chefs today. They include plucking, washing and hanging the bird for a few days before boiling it, then eventually putting it on a spit to roast. While we don't need to do that these days, we can take advantage of the other flavors that Scappi uses for fowl in the cookbook, and it is that interpretation you find on this page. My husband and I find it delicious and it works well with any type of fowl, be it turkey, pheasant, game hens or chicken. You might even try it with duck!
Roast Turkey with Pomegranate Sauce
An adaptation/combination of several recipes for fowl in L'Opera di Bartolomeo Scappi
Yield 10-12
Total time 8 hours or overnight
For the brine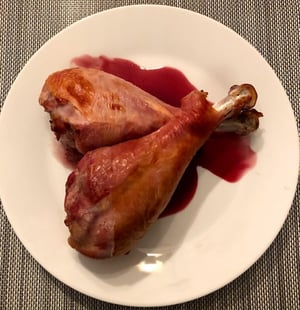 1 gallon water
1 cup kosher salt
1/4 cup light brown sugar
1 tablespoon black peppercorns
1 tablespoon whole cloves
2 tsp nutmeg
3 cinnamon sticks
zest and juice of one large orange
1 gallon water

Make sure to mostly thaw your turkey ahead of time. A partially thawed turkey will be fine if you are brining it as it will continue to thaw in the brine.
Combine the water, salt, brown sugar, peppercorns, cloves, nutmeg and cinnamon in a large pot over medium-high heat. Bring to a boil, stirring occasionally, until sugar and salt has dissolved.

Remove the brine from the heat and cool to room temperature. Add the orange juice and the zest. Combine brine and additional water (using more to cover the turkey if needed) in a container large enough to hold the turkey or in a brining bag.

Remove the giblets (set aside for gravy or stuffing). Placed thawed turkey breast side down in the brine. Make sure the bird is fully immersed (weight it down if you need to), cover and place in refrigerator for at least 8 hours or overnight. Turn the bird once part way through the brining period. Remove the bird from brine and pat dry inside and out. Discard the brine.




Roasting the turkey



When it comes to roasting the turkey, culinary hero Alton Brown's method is one of the best. I'm adapting it slightly here:

Thawed turkey
2-3 carrots
1 fennel bulb
1-2 onions
fresh rosemary
fresh thyme
Remove all oven racks except for one. Set this rack in the next-to-the-lowest position. Preheat oven to 500°.
Loosely pack turkey with a combination of carrots, fennel, onion, rosemary and thyme. Keep packing loose.
Place turkey, breast side up, on a V-shaped rack set inside a large roasting pan. Cut a piece of foil big enough to cover the turkey's breast. Mold piece to breast. Remove foil, then grease with spray.
Rub butter between your hands until liberally greased (you may use disposable gloves if desired). Rub butter into turkey. You may need to re-butter your hands a couple times in order to get a nice, even coating.
Place turkey in oven, neck end first and breast up. Roast turkey until nicely browned, 30–40 minutes. Apply foil to breast of turkey. Insert thermometer probe directly through foil into deepest part of breast.
Reduce oven temperature to 350° and return turkey to oven, foil securely in place. Do not open oven to baste turkey. Roast until probe registers 161° for breast and 181° for thigh, 2–2½ hours.
Cover turkey with foil and let rest 30 minutes. Save pan drippings for gravy.
Making the pomegranate sauce
3 cups of unsweetened pomegranate juice
1 1/2 cups dry red wine
3 tbsp pomegranate molasses
fresh pomegranate seeds/arils for garnish
Combine all ingredients except seeds in a saucepot on the stove and reduce over medium heat by at least half, until it becomes a little syrupy. Be careful not to let it cook so long that it begins to caramelize. Add seeds and serve with the turkey.

Buon Appetito!

---
And if you want even more recipes, you can pick up The Chef's Secret Companion Cookbook for free by clicking the image:


Want to read more about Bartolomeo Scappi?
The Boston Globe said of the book: "King's characters are drawn as lovingly, as sensually as the food and the Vatican world she describes, and the plot itself — part secret-code mystery, part love story — moves like a well-paced meal."