Tortellini with Peas

One of my favorite things about writing THE CHEF'S SECRET was trying my hand at some of Bartolomeo Scappi's recipes. L'Opera di Bartolomeo Scappi includes some of the first recipes resembling what we know as pasta today, including stuffed pasta such as tortellini and tortelli. It was a fun challenge trying to figure out how to make this recipe, from Book II.252 of L'Opera, work. The dough, which is made with with sugar and rosewater but no oil, is a bit softer and more pliable than what is common today. The spices lend themselves well to the peas, however, and this makes a perfect spring dish. But if you are like me, and love peas any time of the year, by all means, go with the frozen peas. It's still a delightful and surprising dish!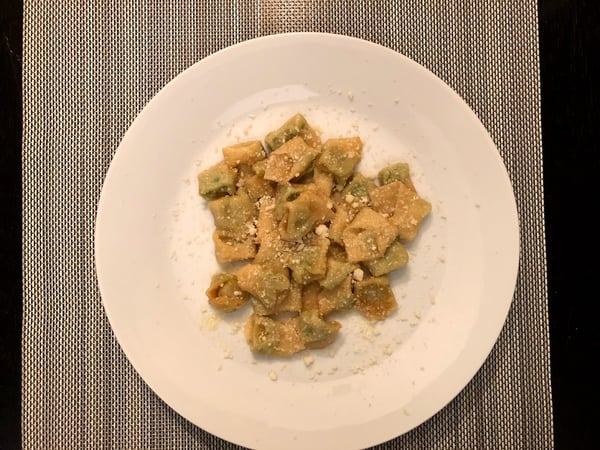 From Scappi Book II 180
Tortellini with fresh peas
Makes 4 servings
For the filling
1 cup peas (fresh is best, frozen works too)

1 green onion

1/4 tsp nutmeg

Pinch of cloves

Pinch of pepper

Pinch of cinnamon

¼ tsp sugar

½ cup ricotta
Boil peas in chicken broth or water. Drain and let cool.

Saute onion in a little butter, let cool.

Mix all ingredients in a food processor until it forms a paste. Set aside.
For the dough
1 ½ cups flour (and more as needed for rolling the dough)

2 tbsp water

1 tbsp rosewater

½ tbsp soft butter

1 ½ tbsp sugar

2 egg yolks
You can mix the ingredients together with a mixer and a dough hook, or by hand:

On a clean counter, create a mound with the flour and then create a round well in the center with your fingers. Carefully add the other ingredients to the well, making sure they don't escape the edges of the well. Use a fork to mix flour into the eggs starting from flour at the inside and edges of the well, until a soft dough begins to form.

Knead the dough gently with the heels of your hands, adding a little bit of flour as needed if the dough seems sticky. Keep your surface dusted with flour to keep the dough from sticking. Knead for 8 to 10 minutes until the dough is smooth and elastic.

Wrap the dough in plastic wrap and let it rest at room temperature for 30 minutes.

Unwrap the dough and knead it for a minute. Cut the dough into half-you'll roll each half out separately. Keep remaining dough in plastic wrap until ready for use. In general you will want to work fast so that the pasta doesn't dry out too much.

You can use a pasta machine if you like, or roll by hand into a wide circle or square, paper thin but not too thin so that it would tear.

Cut the sheet of dough into squares 1 ½ inches by 1 ½ inches. Place a pea-sized amount of the pea mixture into the middle of each square. Fold the square into a triangle. Press around the filling to seal (if you are finding the pasta doesn't stick, use a little water on the edges). Bend the triangle around your pinky finger and press the ends together to seal. The tortellino should look like a little crown or hat.

Transfer to a baking sheet sprinkled with flour or covered with a clean kitchen towel (you don't want them to stick to the pan).

Repeat with the remaining pasta dough and filling.
The pasta freezes well so if you make a big batch and want to freeze, make sure to put the tortellini on the baking sheet into the freezer for 15 or 20 minutes, then remove and transfer the frozen tortellini to a plastic bag for easy storage.
To cook and serve the tortellini:
Boil the tortellini in chicken broth or water for 3 to 5 minutes depending on if they are fresh or frozen.

Toss the tortellini in 2 tbsp of melted butter.

Top with grated parmesan or romano cheese. Scappi also adds a little sugar and cinnamon if you want to be more authentic.
Want to learn everything about Renaissance food? Check out this page.
And want to try your own hand at other Renaissance recipes? Check out my free cookbook!