RECIPE: Buffalo Blue Cheese Sourdough Bread

So you probably know me as someone who loves historical food and recipes, but I love to bake and cook in general, and I'm lucky that I have a husband who also loves to cook. I tend to do most of the baking though, and oh do I love a good loaf of bread. I'm a bit late to the #covidcooking sourdough craze but better late than never, right?
So when The Book Club Cookbook asked me to be part of their
Blends Bash
I jumped at the chance. If you aren't familiar with The Book Club Cookbook's Book, Song and Movie Blends, you are in for a treat. Their spice blends are high quality and super
punny
too. They make great gifts for any book, movie or music lover!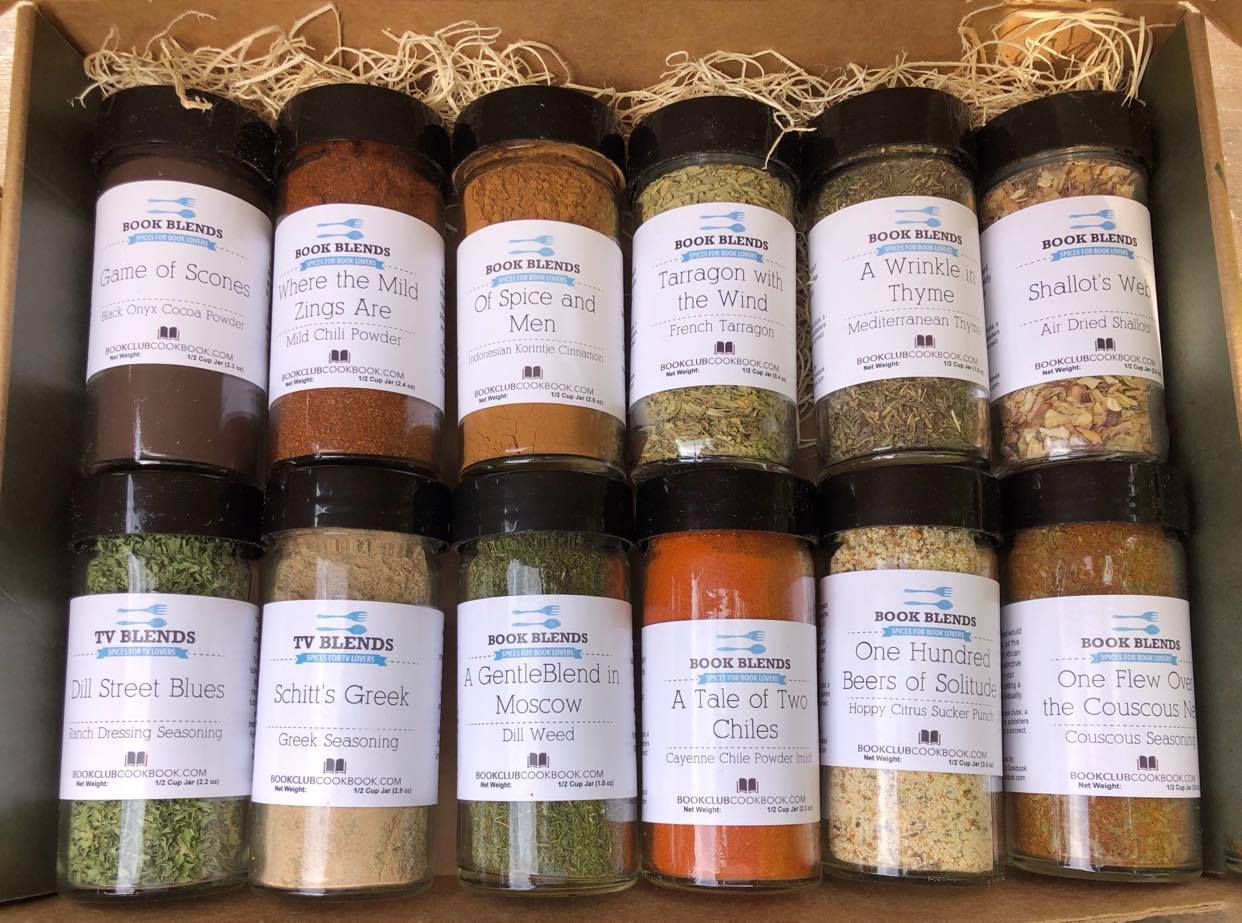 This recipe is a twist on Food & Wine's
sourdough boule.
This makes for a wonderful snack on its own, or excellent bread for ham or turkey sandwiches. The cheese mostly incorporates into the bread in pockets of blue cheese goodness. I also like to place slices on a baking sheet and toast them under the broiler in the oven (don't use a toaster in case the cheese melts) then slather them with bits of
good Italian butter
.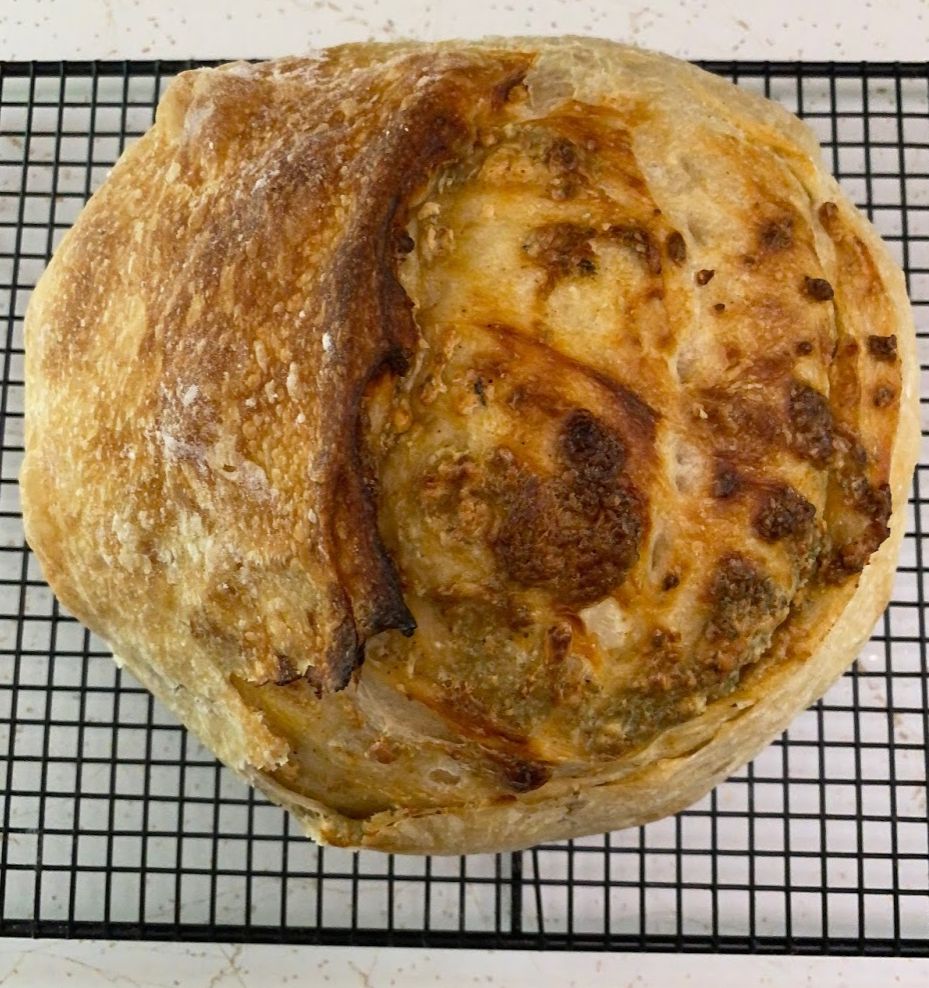 You want to make sure that you have a healthy starter on hand for this recipe. If you don't have one, King Arthur Flour has both a
recipe to start your own
, or you can also buy a starter directly from them
in their shop
. Before you use your starter to make the levain, make sure you feed it at least twice the day before you attempt this recipe--it helps with flavor and how the bread rises.
I recommend starting this bread mid-day on the first day, then cook it the next morning after it has chilled in the fridge overnight. The recipe calls for wheat germ or white rice flour for dusting but I have had perfectly fine results with regular bread flour.
Ingredients
To make this bread, you'll need
The Lord of the Wings -
Buffalo Wing Rub (a blend of Ancho chile powder, pasilla negro chile powder, paprika, garlic, onion, and cumin) from The Book Club Cookbook,
which you can order here.
You can adjust the spice to taste...this recipe makes a
mildly
spiced bread. If you want it spicy, double the spice amount.
For the Levain
3 tablespoons (1 1/2 ounces/40g) warm water (90°F to 100°F)

3 tablespoons (1 1/2 ounces/40g) mature sourdough starter

1/3 cup (about 1 1/4 ounces/40g) bread flour
For the dough
1 1/2 cups (12 ounces/345g) warm water, divided

Levain (see above)

4 cups (about 17 ounces/485g) bread flour, plus more for dusting and work surface

1 tablespoon (1/4 ounce/9g) kosher salt

1 tablespoon (1/4 ounce/9g) The Lord of the Wings Buffalo Wing Rub

Wheat germ or white rice flour, for dusting (optional)
For the cheese filling
Directions
Step 1 Prepare the Levain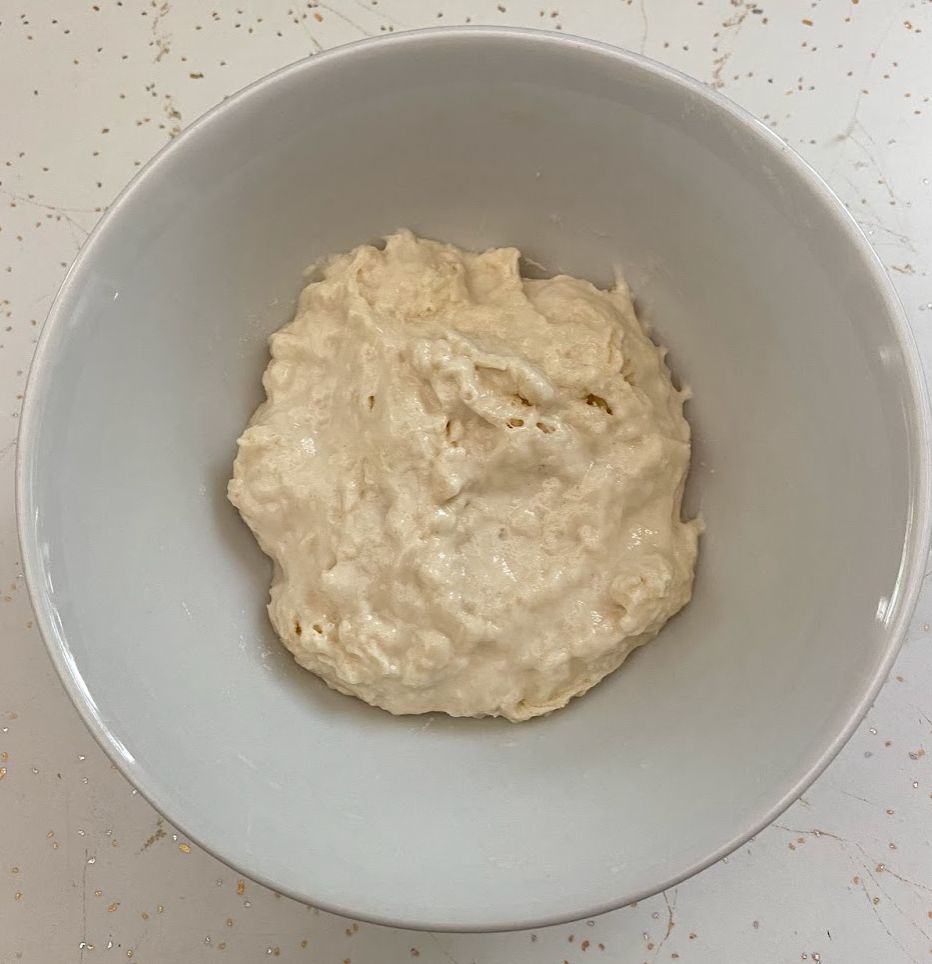 Stir together warm water and sourdough starter in a large bowl until evenly incorporated and mostly dissolved. Add bread flour; stir well until no dry bits of flour remain. Cover bowl with a kitchen towel; let stand at warm room temperature until almost doubled in volume, in volume and small bubbles appear on surface, 2 to 3 hours.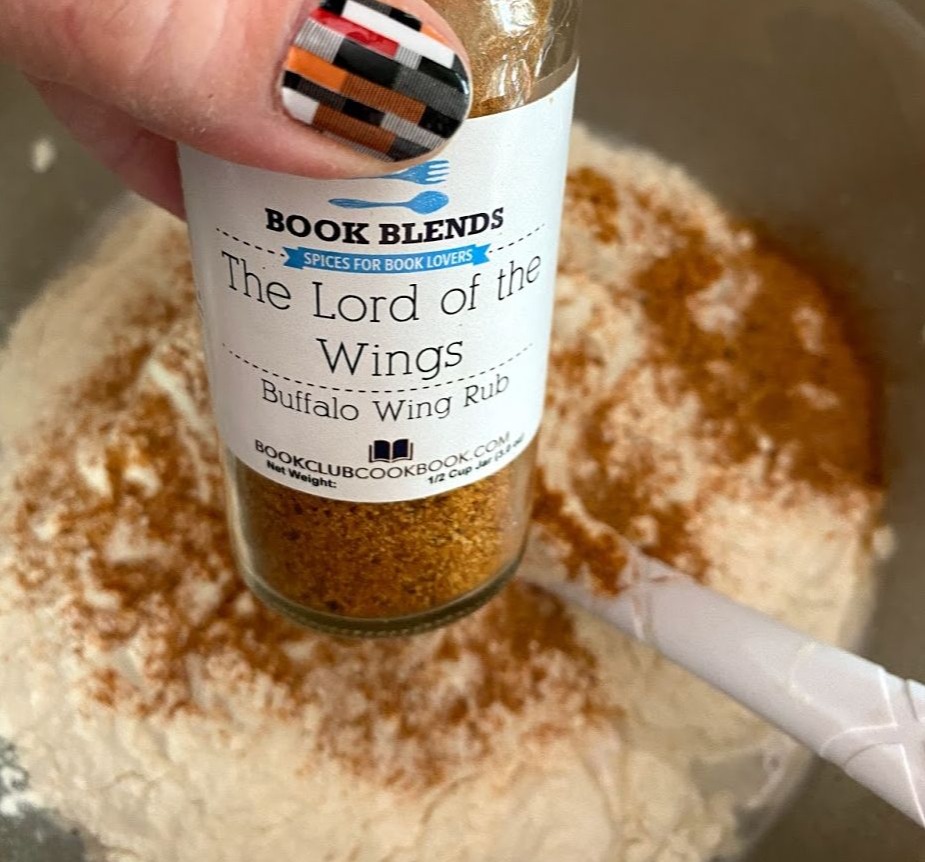 Step 2 Prepare the Dough
Add 1 1/4 cups of the warm water to levain in bowl; stir until evenly incorporated and mostly dissolved. Add bread flour and 1 tablespoon of The Lord of the Wings Buffalo Wing Rub; using your hands, mix together until no dry bits of flour remain. Cover bowl with a kitchen towel; let rest at warm room temperature 30 minutes.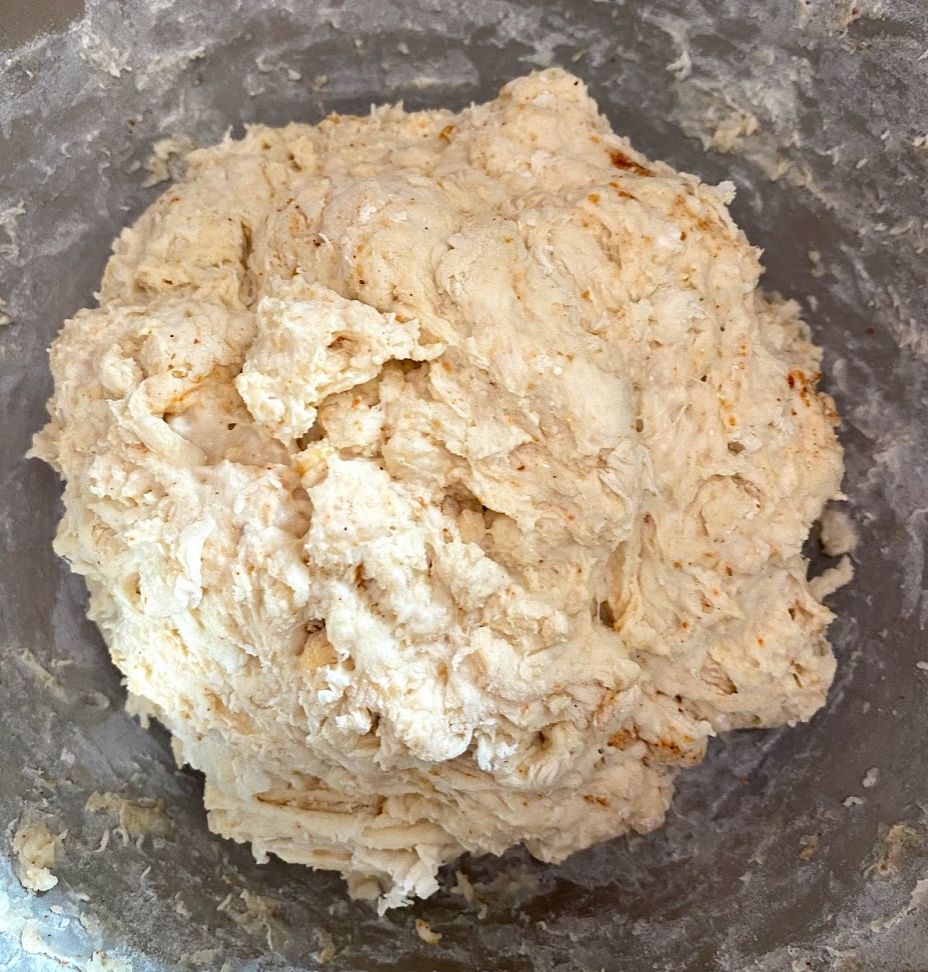 Step 3
Uncover bowl, and sprinkle dough with salt; add remaining 1/4 cup warm water. Using a grabbing/squeezing motion with your hands, incorporate salt and water into dough until mostly smooth, 2 to 4 minutes. (Dough will initially separate into clumps but eventually form a homogenous mixture--you may find that that you need to add flour a little at a time until the dough smooths out.) Cover bowl with a kitchen towel; let rest at warm room temperature until dough increases slightly in volume and becomes strong and elastic, 3 to 4 hours, stretching and folding dough back over itself in bowl every 30 minutes. I think of the dough like a square, folding it over itself as I turn to each new side.
Step 4
Sprinkle 1 tablespoon of The Lord of the Wings Buffalo Wing Rub over the blue cheese or gorgonzola crumbles to loosely coat the cheese.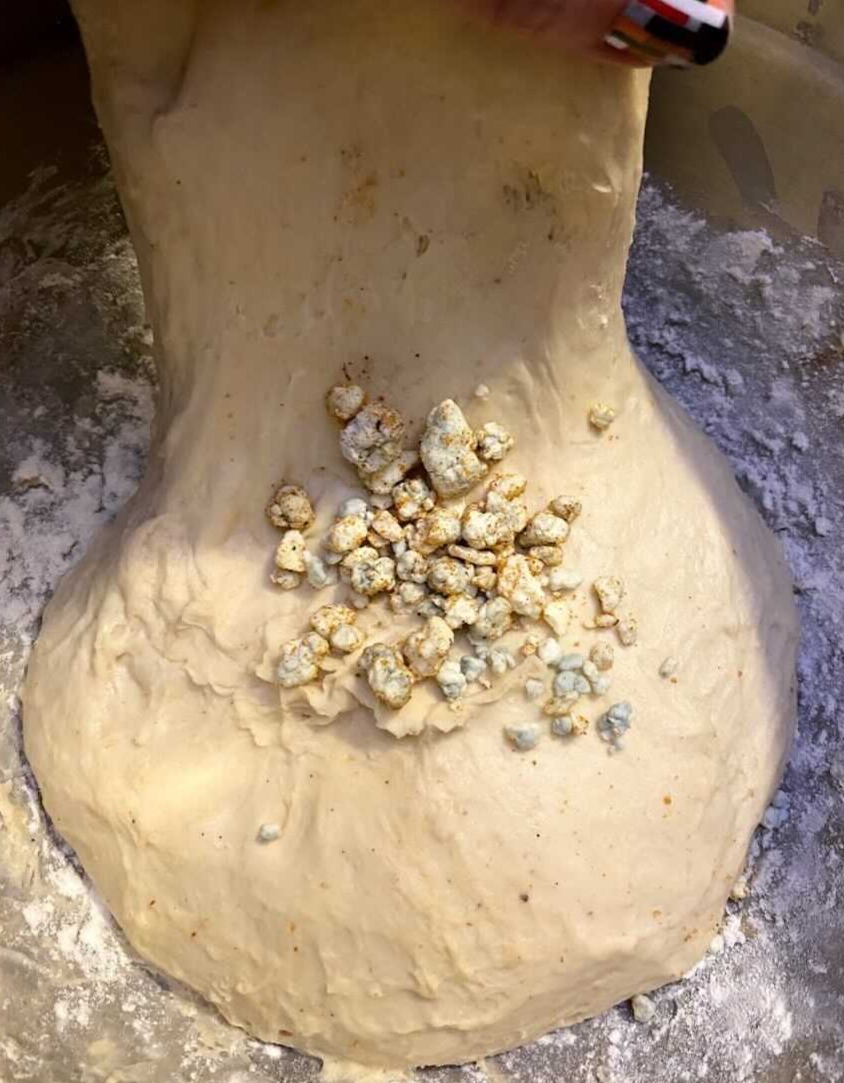 Step 5
For this step you'll stretch one side of the dough up, place a little bit of the cheese mixture in the center of the dough, then fold the stretched dough over the cheese. Turn the dough 90 degrees and pull the next side of the dough up, again, placing a bit more of the cheese in the middle, then folding the dough over the cheese. Repeat two more times, turning the dough 90 degrees each time. As you work, be careful not to let the bits of blue cheese push through the top of the dough.
Step 6
Line a proofing basket (about 8 1/2 inches wide) or medium bowl (about 9 inches wide) with a clean linen kitchen towel or large cloth napkin, and generously dust with wheat germ or white rice flour; set aside. Lightly dust top of dough with bread flour. Using a bench scraper or your palms, pull dough towards you across work surface, rotating about 90 degrees as you drag it, to develop tension and re-form a taut ball. Drag and rotate dough ball 4 to 5 times. Let dough ball rest on work surface to help seal bottom seam for 1 minute.
Step 7
Using a bench scraper or your hands, lift the dough ball, and carefully invert into prepared proofing basket so that the smooth, rounded side is facing down and the seam side is facing up. Cover basket with a kitchen towel; let stand at room temperature until dough slightly increases in volume, about 30 minutes. Immediately proceed to Step 7, or chill dough in covered basket at least 8 hours or up to 18 hours to develop the flavor even more.
Step 8
If using a gas oven, place rack in lower third position; if using an electric oven with the heating element in the bottom, place a pizza stone on the lowest oven rack to help concentrate the heat (if you don't have a pizza stone, just skip it) and place a second rack in the lower third position for the bread itself. Preheat oven to 500°F for 1 hour. During this time, remove dough from the refrigerator and let it continue proofing at room temperature while oven preheats (I usually set it on top of the oven to get warm).
Step 9
If the surface of dough is sticky, lightly dust with wheat germ or white rice flour (I use regular bread flour and it works fine). Lay the dough on parchment paper and invert dough ball so that the rounded side is now on top. Using a bread lame or a very sharp, thin knife, score a 6-inch-long, 1/3-inch-deep slash down center of loaf. If the blue cheese shows through seam, that's ok, but if it comes out of the seam, gently push it back into the seam. Remove dutch oven from the stove and being very careful of the hot edges of the dutch oven, lift the dough by the parchment paper and sent inside the dutch oven.
Step 10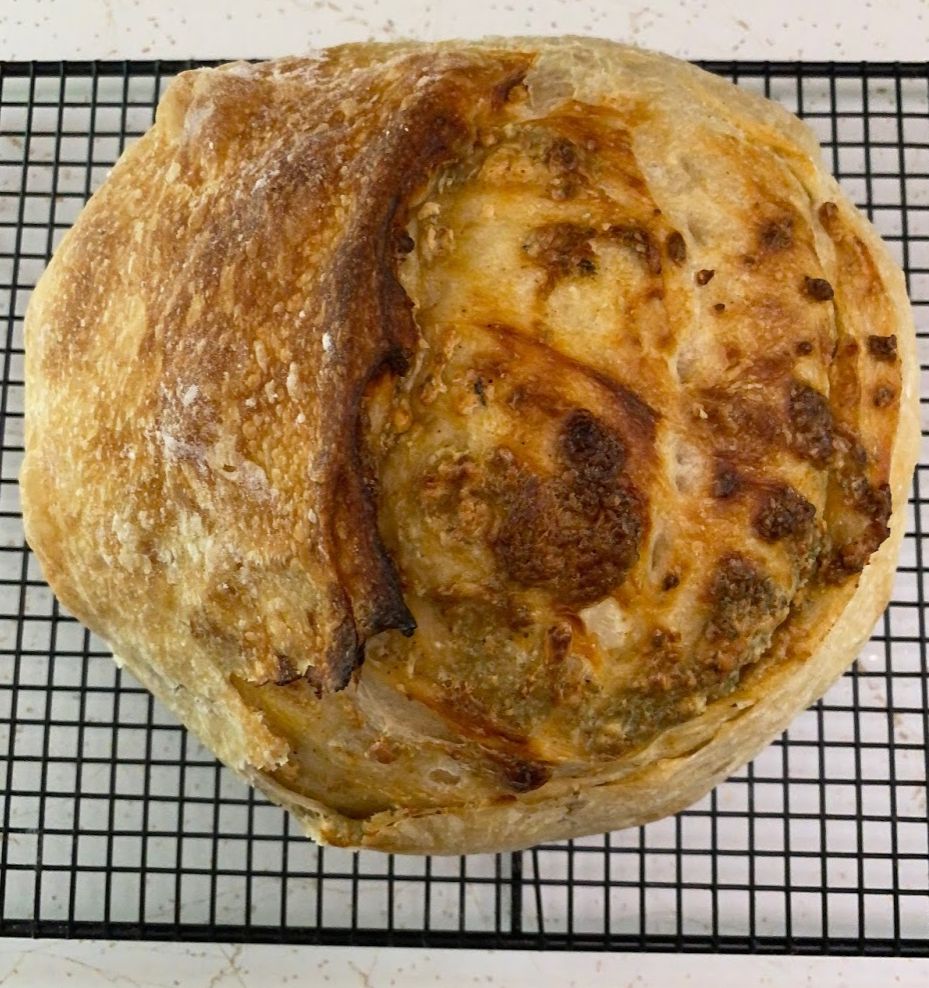 Place lid on bread pan, and place in oven. Reduce oven temperature to 450°F. Bake, covered, until the boule has increased in volume, opened up at the score, and turned a shiny pale-light brown, about 35 minutes. Remove lid and continue baking boule until golden brown and an instant-read thermometer inserted in center of bread registers 200°F, 15-20 minutes more. Transfer boule from bread pan to a wire rack to cool; remove and discard parchment paper. Let cool completely, about 2 hours. Slice and serve.
Mangia!