The Flavors of Ancient Rome: Lemon Black Pepper Ice Cream with Honey Fig Jam

It's #NationalIceCreamDay and that deserves two blog posts, in my humble opinion.
I tell the story of how I met fellow ice cream lover, Hannah Spiegelman, in my post about her Sour Cherry Coriander Ice Cream recipe, which you can check out here. This is the recipe she came up with after being inspired by Feast of Sorrow, and the ancient Roman gourmand Apicius.
And while you may be saying to me, WAIT! there were no lemons in ancient Rome! That's only partially true--for early ancient Rome. Arab conquerors brought lemons and other citrus fruits to Sicily in the early part of the third century. And while Apicius probably never knew what they tasted like, I feel confident that he would have fallen madly in love with their wonderful yellow color and tart flavor. I am more than positive that he would have adored this ice cream just as much as I do.
Lemon Black Pepper Ice Cream with Honey Fig Jam
by Hannah Spiegelman

Honey Fig Jam
1 lb. figs, stemmed and quartered
¼ cup honey
2 tbsp. sugar
1 tbsp. lemon juice
¼ cup water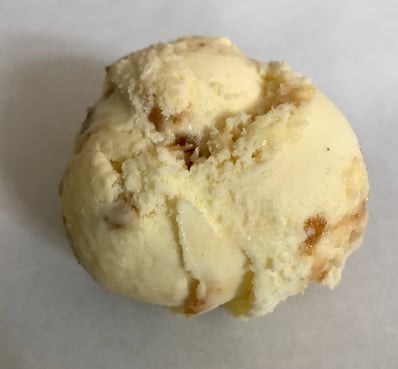 1. Place the figs, sugar, and honey in a large sauce pan and heat over medium-high heat, stirring to occasionally until the sugar is dissolved and the figs are juicy, about 12 minutes. Add the water and lemon juice, bring to a boil, and then reduce heat, stirring occasionally. Simmer until the fruit is very soft and the liquid thickens, about 20 minutes.

2. Put the jam into a container and let it cool at room temperature before storing in the fridge. It can be stored for up to 3 months.
Ice Cream Base
1 ½ cup cream
2 cups milk
¼ cup corn syrup or glucose
¾ cup sugar
5 large egg yolks
1 tbsp. + 1 tsp. cornstarch, mixed with 2 tbsp. milk
1 tbsp. black peppercorns, crushed
1 tbsp. lemon zest
Juice of 1 lemon juice
1. Put the cream, milk, glucose, sugar, and peppercorns in a medium saucepan, and place it over medium-high heat. Cook, whisking occasionally, until the mixture come to a full rolling boil, then remove the pot from heat.
2. Add in the cornstarch mixture. Cook for another minute and then remove from the heat.
3. In a medium bowl, whisk the yolks. Add about a cup of the hot dairy mixture into the yolks while whisking so the hot milk doesn't scramble the yolks. Pour the tempered yolks back into the pot of hot dairy. Place the pot over medium-low heat and cook, stirring and scarping the bottom of the pot constantly with a rubber spatula.
4. When you notice the custard thickening, immediately pour the custard into a metal or glass bowl. Nest the hot bowl into an ice bath, stirring occasionally until it cools down. Add in the lemon zest and juice.
5. When the custard is cool to the touch, strain it through a fine mesh sieve to remove any bits of egg yolk.
6. Chill the base in the refrigerator for 4 hours to overnight.
7, Churn the base according to your ice cream machine's instructions. Layer with the jam as you put the ice cream in a freezer-safe container. Harden in the freezer for at least 6 hours.


FOR A LIMITED TIME ONLY (Through November 22, 2020!) get the FEAST OF SORROW eBook for only $4.99! Click the image to buy.