The Best Sugar Cookies In the World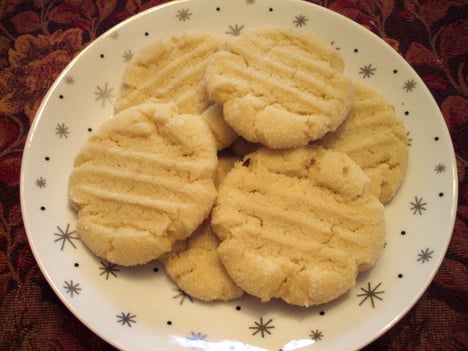 My grandfather, whom we called Papa, loved to bake. He loved to make cookies, pies, cakes. And he loved to send big huge care packages to us from four hundred miles away full of his favorite treats. My mother learned to make many of his favorites and passed them on to my sister and I. There are many that I love, but this particular recipe is the one I love the best. They are also some of the simplest cookies to make, with only a few ingredients.
It's a strange recipe, in that there are no eggs, butter or oil. Well, not in their purest form, at least. Instead mayonnaise is the star, which might sound strange until you remember that mayo is really just eggs and oil together. It means that this cookie dough isn't very tasty at all, but I swear, the end result is. The mayo gives these cookies a special crispness that melts in the mouth.
I usually make them once a year, at Christmas, because they are addictive. But we're in the midst of some desperate times with this pandemic, and a little extra comfort goes a long ways.
One note, don't substitute the mayo for something low fat or eggless. The cookies will turn out strange and rubbery. I know not why, just that you really don't want to do it.
Also, for some reason I've not had great luck doubling the recipe. They just don't turn out quite as well, and again, not sure why. I have a huge DO NOT DOUBLE written at the bottom of this recipe card, now probably 30-35 years old.
I alluded to this, but to be very clear...if you love to taste-test (ha!) the dough, just don't on this one. 😖
My Grandfather's Mayonnaise Sugar Cookies
Makes about 2 dozen cookies.
1 cup mayonnaise (no substitutes)
1 cup sugar plus extra for coating dough balls
1 tsp vanilla
1/4 tsp almond extract
1/2 tsp salt
2 cups flour
1 tsp soda
Stir together mayonnaise, sugar, vanilla and almond extract.
Add flour, soda and salt.
Roll into balls and roll in sugar.
Flatten the tops with a fork, careful not to crush them too much. Sprinkle a dusting of sugar into the cracks if desired.
Bake for 10-12 minutes at 350 degrees, until the cookies are crisp. They should be mostly firm to the touch but not brown.

Enjoy!