September Update: Goodreads Giveaway, Book Festivals, A Delicious Dinner and More!

It's my favorite time of the year! Well, almost. I know many of you are groaning when I say that, but I say, bring on the leaves! Bring on the sweater weather! Let us carve up some gourds!
Goodreads Giveaway
To kick off the autumn celebration there's a Goodreads Giveaway for three copies of THE CHEF'S SECRET that you can sink your teeth into. Please share the book love and tell your friends.
Goodreads Book Giveaway

Giveaway ends September 11, 2019.
See the giveaway details at Goodreads.
Decatur Book Festival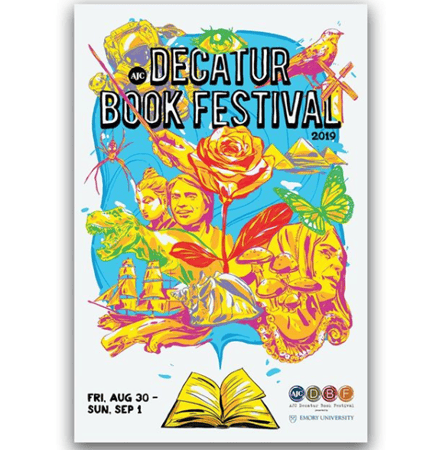 This weekend I'll be hanging out in Georgia (which definitely will NOT be sweater weather), at one of the country's biggest book festivals. I'll be on right before another Atria Books author whose name most will recognize, Phillipa Gregory.
Bringing the Past to Life - Sep 1, 5PM
Explore the past with this panel featuring recent historical fiction novels: The Lost History of Dreams, by Kris Waldherr, The Chef's Secret, by Crystal King, and Thomas and Beal in the Midi, by Christopher Tilghman. The authors will discuss using historical settings to tell timeless stories.
Please come by and say hello! https://www.decaturbookfestival.com/

A Renaissance Dinner Party
I'm super thrilled to be working with Barbara Lynch's restaurant and cookbook store, Stir Boston, on an incredible Renaissance meal featuring foods from Bartolomeo Scappi's 1570 cookbook. This is a very exclusive, special dinner not to be missed, and seats are SUPER limited (to TEN people), so hurry and get your ticket.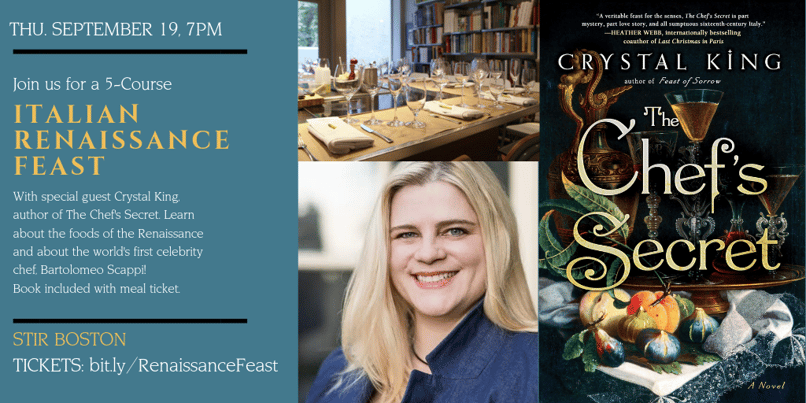 The Salem Literary Festival, Sat. Sep 21, 2:30 p.m. Delectable Tales

I'm returning to the Salem Literary Festival this year, and I'm extra excited to be on a panel with other food writers, Anne Hood and Louise Miller, and moderated by Michael Ruhlman (whose Charcuterie book changed the sausage game for my husband and I).
Historically Delicious Italy
And finally, if you really want to dive into the foods of the Italian past, check out my new page all about Renaissance food! It's full of fun factoids about forks, sugar sculptures, napkin folding and more. There are even links to recipes and other books on Italy!