A Taste of the Renaissance in Boston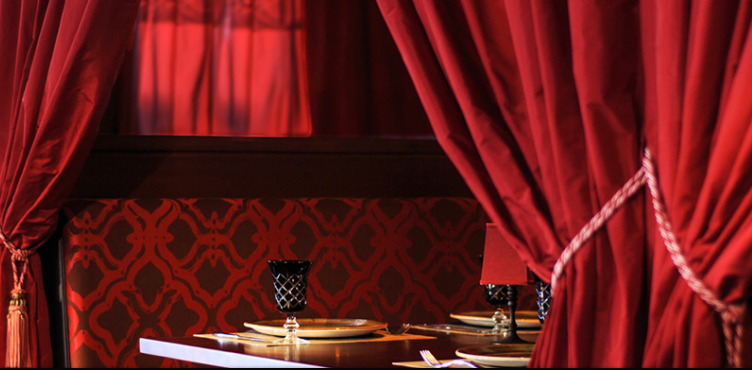 On Friday night my husband and I had the immense pleasure of checking out a new restaurant in Boston, M.C. Spiedo, located in the Renaissance Hotel on the waterfront. The chefs are from Maine's famous Arrows and MC Perkins Cove, Mark Gaier and Clark Frasier (they're also Top Chef:Masters as well!). We're fairly big food nerds and love trying out new places, but when I heard
about M.C. Spiedo's focus on Italian Renaissance inspired food, the excitement went to a new level. Here? In Boston? Someone creating the dishes from the era of Bartolomeo Scappi, the central character in my second book? How incredible is that?
Pretty damn incredible, let me tell you. The restaurant is modern, but everywhere you look there is a reminder of the past, from the big red bordello-style booths, to the large portraits hanging, to the fantastic bookplates from Scappi's L'Opera on the walls in the bathroom.
We sat at the antipasti/mozarella bar which had a fantastic view into the kitchen. The menu was a challenge in that there are so many things that sounded fantastic that we had a difficult time deciding what to eat! I was so torn--I wanted to try the spit-roasted chicken, the Borgia lasagna, Leonard's veal burger (veal was the primary choice of meat at the time), the delicious sounding pizzas. My head was spinning a bit trying to decide.
The Renaissance was a fascinating time when it came to the world of food. Chefs working for noble houses began to publish cookbooks. Banquets were demonstrations of wealth and power; the ability to acquire exotic spices and meats was something only for the rich. Recipes became more and more ostentatious, ranging from roasted peacocks that were made to look alive, feathers and all, to blancmange, prepared on special, pristine surfaces designed to help keep the food as white as can be. As a result, many of today's translated recipe books are not easy for a modern cook to recreate. Not only are the recipes often elaborate, but they are also quite vague, with no measurements or cooking times to guide the chef. The cookbooks were written by chefs for other chefs. They would have known how to determine the proportions and the other nuances left out by those Renaissance writers.
This is precisely why I was so excited about what Mark and Clark are doing with the food at their new endeavor. I've recreated historical recipes (a few of them are here) and they are not easy nor are they always palatable for today's fussy food patrons. In talking with both of them about the recipes they said that they had been dabbling with a few of them for years, perfecting and trying again and again. Their inspiration came from many sources. I recognized Leonardo's salad, in particular. The recipe was found in his notebooks, as was a ground veal recipe which the team transformed into a veal burger. If you are interested in more about what Da Vinci might have ate, check out Da Vinci's Kitchen: A Secret History of Italian Cuisine.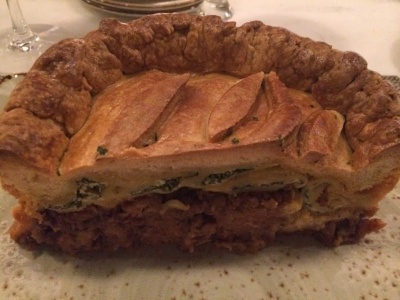 Many of the other recipes aren't so easy. The meat torta was the dish that I had my eye on. It's an extremely complex recipe with hours of labor involved. Scappi had several meat pies in his cookbook and they were a very popular dish at banquets around Italy. There are many sources that mention meat pies at the courts of Cosimo de Medici. Cosimo was known as a food lover and for hiring the best cooks in his kitchen. Clark and Mark told me that it took them several years to perfect the recipe. There are layers of various meats (turkey, veal, and more that I can't recall), toped with spinach stuffed tortellini and a custard, then baked in the most delectable, slightly sweet, lightly lemony crust. It is a bit of a food bomb, but wow! It really hit the spot and I was delighted to take home the leftovers. It's a must try if you visit.
My husband had the suckling pig pasta and I thought he might expire with pleasure. Pasta was just starting to come into its own during the Renaissance and there are some very tasty recipes from that era which would easily appeal to audiences today. In fact, tonight we're making a rabbit pasta from a historical recipe. Mmm. I'll have to share that one here at some point.
We also had the heavenly house-made burrata, deviled eggs (quite popular in that time, see recipes from Scappi here that I mean to try at some point) and some absolutely delicious meats from the antipasti bar. Joe fell in love with the creamed spinach, made with some interesting sweet spices and pine nuts.
And oh! The Florentine "cheesecake" was amazing. It wasn't much like a cheesecake at all except it had a similar consistency. It was more like a creamy fruitcake. Made from barley, fruit, some cream cheese, spices and baked in a sweet pastry, I was sure there was no way we could finish the rich dish. And yet we devoured it in minutes. I'm dying to figure out the recipe, which I imagine they cobbled together from several recipes. It sounds quite similar to a Neapolitan Easter pie (you can find a recipe here), which I've not tried but now I simply must.
I can't wait to return and talk with them about what they are cooking up, about their research and travels to Italy, and I especially can't wait to try more of their dishes, including a lasagne which came from the Borgia court, spit-roasted chicken with prosciutto and lemon, the guinea hen, the "old style" calzone...so many choices! What I love most is that it gives me an immediate anchor into the flavors I've long imagined and have not yet had the chance to attempt myself. The taste of the meal is already settling into my memory, a memory that will enrich the descriptions of the foods I hope to bring to life on the written page.
Mark and Clark were on NBC's Today Show earlier this month, talking about Leonardo's salad, marinated fennel and showing how to make the lemony heritage chicken. I can't wait to try the recipe. You can see the clip and get the recipes yourself, here.
And now I have some serious impetus to write my book at a faster pace--what an incredible place M.C. Spiedo will be for the book launch!!!!
Related articles