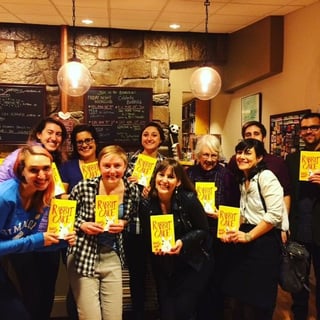 Inviting an author to speak with your book group can be a fantastic way to enhance the experience of discussing a great book. My bet is you'd be surprised at how many authors (like Annie Hartnett, featured here with a book club reading her book, RABBIT CAKE), will agree to come to your house, library or restaurant to talk about their books.
So how can you get in on this bookish goodness? And how can you make sure that your author's visit will make a difference for your book club?
Here are ten tips to keep in mind:
Contact the author at least a month ahead, if not more.

This is especially true if the book has recently been published and an author is on tour with a full schedule. Likewise, if it's a popular author, you may need to consider scheduling even further ahead. Most authors will be delighted to accomodate you, either in person, or via Skype or other online chat, but be respectful of their time. If you are having a three hour meeting, be thoughtful and give the author a chance to duck out after the Q&A.

Discuss the flow of the book club meeting with the author beforehand.

Be open about the start and end times, if you want the author to read, and if there might be a meal. Helping to set expectations ahead of time will help the meeting to go smoothly for both the author and the book club members.
Choose the author's most recent book. After a book is published, authors are focused on promoting their most recent novel (and how many copies are sold). Your word of mouth about the book will go miles for them when it comes to helping with that promotion.
Think of questions to ask ahead of time.

Ask for the reader's guide (or go to the publisher's site and see if there is one to download). Visit the author's site and get a sense of who they are. Read articles about the author and arm yourself with information so that you can have a discussion that might reveal something new or special about the book that might not have been shared before.
Consider having someone facilitate the meeting. This helps keep the conversation on track and that the author is able to answer everyone's questions. Sometimes the discussion can wind up being non-book related and then afterward members might wish they had asked more about the book and conversely, the author might feel like they came to a party to meet people, not to discuss the book.
Buy the book. I realize that for serious book lovers, buying books might not always be practical. But if an author is going out of their way to meet with your club, do them the courtesy and purchase a copy--and have them sign it. The author is, after all, trying to make a writing viable source of income, and every purchase helps. It can be disheartening for an author to take time out of their schedule to go to a club and then discover that all ten of the members passed around the library book of the novel that took them years to write.


You can also consider asking if the author will bring books to sell. Many authors would be happy to do so. Or, if you are planning for a large group to be at your reading event, ask your local bookstore if they would be willing to send someone to sell books. Many bookstores would be delighted to accomodate.

Consider an honorarium. Most authors (including me!) will come to your event for free, but some small token to cover gas or expenses is a nice gesture, or offer them a meal, or a special gift for attending. Be ready to answer the question about an honorarium when you connect to the author, as some may ask. Some clubs ask members to donate $5-10 or have treasuries that they can pull from.
Make sure everyone in the club has read the book. Some book clubs don't require that readers read every book but if an author is going out of their way to join you, treat it as a special event.
Test all technology ahead of time (and ask the author to as well). If you are conducting the call via Skype, Facetime or Google Chat, make sure that everything is working and connecting in the time leading up to the book club meeting. Don't leave anything to chance.
Have fun! You are all there because of a love of books and a mutual desire to discus the world of story. And if you do have fun, tell others! Help share the love of the book. Word of mouth is the most powerful friend an author can have!

And guess what? I love to visit book clubs! If your club is reading FEAST OF SORROW and you want me to join in the discussion, just click the link below.