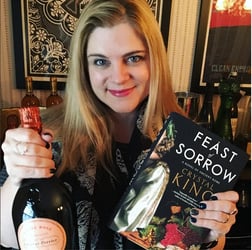 2017 was such a wonderful year for books set in my favorite country, Italia. My own novel, FEAST OF SORROW, about the ancient Roman gourmand, Apicius, hit bookshelves in April and it's been a crazy, fun, whirlwind year talking to readers and promoting my book. But the best thing about the year, for me, was meeting many of these authors and talking to them about Italy and getting a chance to read their books.
Here are all the novels with an Italian flavor published in 2017 that I read this year or with whom I made a personal connection with the author. They're in alphabetical order--to choose a favorite would be near impossible.
The Confessions of Young Nero by Margaret George
I loved this look at Nero when he was a young boy growing into his power and the forces that shaped his early life as emperor. I loved getting to know Margaret even more--someone who has been a historical fiction inspiration for me and to talk about our shared love for the time period and Italy has been an incredible.
Florence in Ecstasy by Jessie Chaffee
While this book is a tribute to the beautiful city of Florence, it's also an incredible story of a woman struggling with an eating disorder, with figuring where her place is in the world and how to believe in herself. Wow, Jessie, what a book! I have really enjoyed getting to know her through the Seventeen Scribes debut group and had the chance to meet her at the Boston Book Festival this year.
In the Name of the Family by Sarah Dunant
Sarah is another of my historical fiction heroes--I fell in love with In the Company of the Courtesan over a decade ago and have devoured everything she has written since. I had the pleasure of connecting with her to do a giveaway earlier this year and she inspired me to write this article in LitHub -Why Historical Fiction is More Important Now Than Ever earlier this year.
The Hunger Saint by Olivia Kate Cerrone
How on earth had I gone through the entire year without ever meeting Olivia? I finally had the great fortune to connect with her in a joint reading we did at the Brattleboro Literary Festival. Her novella is an amazing look at child labor in the sulfur mines of Sicily in the 1930s. I'm delighted that we both live in Boston and can get together and talk books and Italia in our future.
The Italian Teacher by Tom Rachman
I was gifted an ARC of this novel by a fellow author and bookseller--it won't be out until February 2018. I loved this novel about a son living in the shadow of his artistic father. Much of it is set in Italy and of course, there is an Italian teacher in this twisty, terrific tale. Add it to your TBR pile ASAP!
Landslide, True Stories by Minna Zallman Proctor
I had the chance to hear Minna read at the Boston Book Festival this year and I immediately picked up her book. She lived in Italy for many years and works as a translator. Her stories are beautiful, real and will stick with you for months afterward.
The Most Beautiful Woman in Florence by Alyssa Palombo
I loved this book about Botticelli's muse, which I read shortly before I went to an exhibit of his works at the MFA in Boston and it gave that experience a whole new life for me as I envisioned the story in my mind's eye. I haven't met Alyssa just yet but we've had a great virtual connection and I hope that someday we'll cross paths in person.
One Summer Day in Rome by Mark Lamprell
My publicist and Mark's publicist had hoped to connect us up when Mark was in Boston this summer but our schedules just didn't mesh. I'm bummed about that because I would have loved to have pick Mark's brain about his inspiration for this magical, romantic book which is set in modern day Rome. I know almost all the places that the characters traversed and I loved being able to visit virtually whilst being caught up in the affairs of all those hearts.
The Orphan of Florence by Jeanne Kalogridis
I absolutely adored this delightful story that plays with the history of Cosimo Medici and a man who was his magician and his unexpected apprentice, the orphan Giulia. I could not put this novel down.
The Painter's Apprentice by Laura Morelli
I read Laura's first novel, The Gondola Maker, in 2015, and bought her books on Venice before my trip there and they proved to be extraordinarily helpful in our travels. Then I had the chance to meet Laura when she was heading up the New England chapter of the Historical Novel Society. She's someone that I often use as an example in my classes with authors about social media done right--she knows how to connect with her audience and she does it while sharing her love for everything Italy. This novel is a sort of precursor to her first book and it is just as wonderful.
Scribe of Siena by Melodie Winawer
Melodie and I have the great fortune to both be on Touchstone Books together and meeting her and brainstorming bookish things with her has been one of the highlights of my year. Her novel is a time-traveling romance set in medieval Siena during the height of the plague. She's a neuroscientist and I loved how she wove her scientific knowledge into the underlying threads of her gorgeous book. We're speaking together with Francine Segan next June at the 92nd Street Y in NYC. I hope you'll join us there!
The Third Nero by Lindsey Davis
Like so many others, I have loved Lindsey Davis books for years and she was kind enough to do an interview with me this summer for The Debutante Ball. I haven't yet read this novel because I'm one behind in her Flavia Albia series, but it's receiving rave reviews which only makes sense for a legend such as herself. I don't think she could write a bad book if she tried.
Women & Power by Mary Beard
So this book isn't set in Italy--not exactly. It's a small book, of two essays derived from speeches that the venerable Mary Beard gave. She takes us back to ancient Rome and Greece to show us how the silencing of women's voices has been a thing for centuries. Mary Beard's books have been some of the most influential for me as a writer and in this book she is an even deeper source of inspiration -- for the soul. She suggested that if you buy this book that you should also buy a copy for your sons. She's right. For your husbands, for your sons and all the men in your life. Powerful and a must read for everyone, IMHO.
Buon Natale e buon anno!